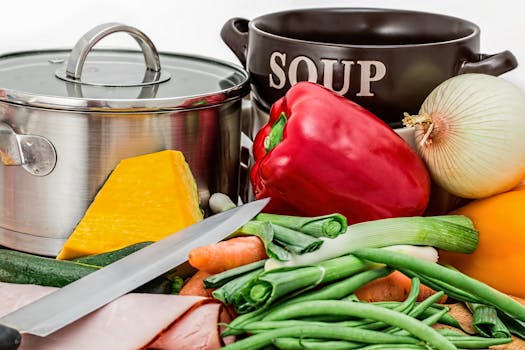 Ingredients
2 tbsp. olive oil
2 medium carrots, chopped
1 medium leek, thinly sliced
8 sprigs fresh thyme, tied together
3 large red potatoes, chopped
2 qt. lower-sodium vegetable or chicken broth
1 bunch asparagus, sliced
1 can (15 oz.) navy beans, rinsed and drained (optional)
2 tbsp. chopped fresh dill
Directions
In 8-quart saucepot, heat 2 tablespoons olive oil on medium. Add carrots, leek, fresh thyme, and 1/4 teaspoon salt. Cook 8 minutes, stirring. Add red potatoes, chopped, and lower-sodium vegetable or chicken broth. Partially cover and heat to boiling on high; reduce heat to simmer. Cook 25 minutes or until potatoes are tender.
Add asparagus and simmer 3 minutes or until tender. Discard thyme. Stir in navy beans (optional), fresh dill, 1/4 teaspoon salt and 1⁄2 teaspoon pepper.
Share with your friends...